Here, we plant and grow trees!
75479 Airport Line, Brucefield, ON ...519-233-7463
---
Brodie Tree Service (& Sales) is owned and operated by Dave and Pat Brodie & family, serving customers in Southwestern Ontario and the surrounding area. Here, we plant and grow trees mature enough to need equipment to spade them out of the ground using a 50" or 90" tree spade. Check out the photo gallery to see the equipment and how it works, as well as our nursery.  We will be adding more pictures soon! 
We would welcome you to knock on our front door to visit our farm and choose that special tree.  Please give us a call in advance to ensure we are available to give you a tour.  Please note that our busiest seasons are early Spring and Fall.
There are many different sizes and kinds of trees available at the farm including species of Maples, Spruce, Pine, Cedar, Sycamore (London Plane), Tulip, Birch, Catalpa, Ornamental Pear, Oak, Gingko,  Linden, Locust, Willow, Lilac, Crab Apples, Ivory Silk Lilac (tree form), Kentucky Coffee and more.
Let us help you discover the right look for you. We know that the selection of a tree is a personal joy and take pride in helping you choose.  Often overlooked are site selections and soil conditions and we are able to guide you with that in mind.
---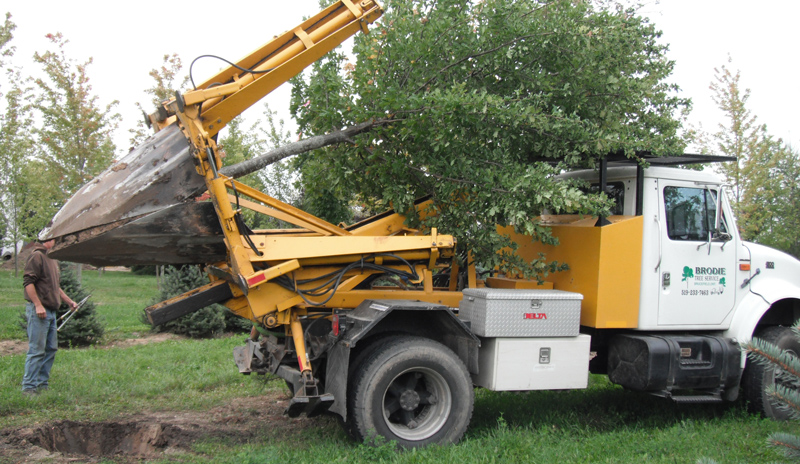 The above photo shows Dave preparing the 5" caliper English Oak tree for travel to its new home using the 50" treespade.